Samuel A. DeMaio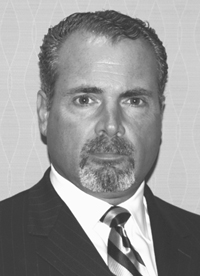 Samuel Anthony DeMaio was born on December 25, 1966 in Newark, New Jersey to his father Carmine, a Newark Police Officer, and his mother Marysue. In 1986 at the age of 19 Samuel followed in his father's footsteps in pursuit of a career in law enforcement with the Newark Police Department. In 1991, Samuel met his wife Sue, in Newark, ironically where his parents also met in 1964. The happy couple was married two years later in 1993 at Newark's beautiful Sacred Heart Cathedral. They were blessed with three children Samantha, 18; Antonia, 16 and Carmine, 14. As Samuel's family began to grow and develop as did his reputation as a promising young patrolman who quickly rose through the ranks becoming the youngest person to achieve each of the ranks in which he was promoted.
As a patrolman he worked in the City's 2nd Precinct and the prestigious Tactical Force. In 1990 he was promoted to Detective and assigned to the Major Crimes Bureau and the FBI's Violent Crime Task Force. In 1992 he was promoted to Sergeant and worked in the 2nd Precinct and the Narcotics Division until 1995 when he was promoted to the rank of Lieutenant. As a Lieutenant he returned to the 2nd Precinct and was later transferred to the 3rd Precinct where he served as the Executive Officer. In 1999 Sam was promoted to Captain. At the rank of Captain he commanded the 5th and 2nd Precincts, developed and commanded the Department's Safe City Task Force, and served as the Chief of Staff for the Chief of Police. In 2005 he was promoted to Deputy Chief where he continued to serve as Chief of Staff, Chief of Detectives, and Chief of Operations for the entire Department. As a result of his outstanding leadership and notable accomplishments throughout his career, Sam was named Chief of Operations. As Chief of Operations he oversaw and facilitated the Department's weekly COMPSTAT meetings monitoring the performance of the entire Department and its Command Staff while developing crime prevention and reduction strategies that have proven highly effective over the years.
In recognition of his successful career as a proven and competent leader with exceptional management skills and extensive knowledge in strategic policing, Mayor Cory Booker chose Samuel to lead the Newark Police Department. On May 3, 2011 Samuel was appointed as Acting Police Director until August 18, 2011 when he received the City Council's first ever unanimous vote, becoming the City's 16th Police Director. At the time of his appointment Director DeMaio was faced with daunting increases in the City's violent crime levels. In response Samuel implemented a complete reorganization of the Department. He created several innovative crime prevention/reduction initiatives and reinstated numerous police units including: the motorcycle squad, the mounted unit, the aviation unit, the marine unit, the community affairs unit, and the clergy affairs unit. By year's end Director DeMaio transformed a 45 percent increase in murders and a 55 percent increase in shootings into 15 percent reduction in murder and 18 percent reduction in shootings. Samuel once again demonstrated his ability to produce positive results in the face of extreme adversity. Despite drastic reductions in financial resources and manpower Samuel's accomplishments have undoubtedly prevented countless tragedies and improved the quality of life for all Newarkers.
In addition to increasing productivity within the Department while decreasing sick time the Department has also experienced a reduction in complaints against police. Director DeMaio has not only demonstrated a strong commitment to protecting the community but serving it as well with implementation of the NPD Memorial Scholarship Fund which gives scholarships to Newark kids entering college and private high schools. The scholarship fund has raised over fifty thousand dollars in its' first year with scholarships given in the names of officers who died in the line of duty as active Newark police officers.
Police Director Samuel DeMaio has dedicated his life to public service. He has enjoyed a highly distinguished career and continues to earn the respect and admiration of the law enforcement community and the greater Newark community which he serves proudly.