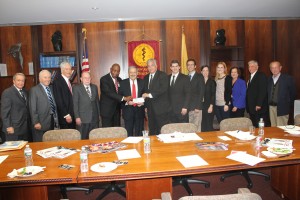 The Columbian Foundation awarded NJIT student John Lombardi the Rudolph Ricardi Memorial Scholarship at the college's Newark campus.

The presentation of the scholarship check was given by Columbian Foundation president, Rocco Malanga, Scholarship Chairman, Benjamin M. Del Vento, Esq., and Trustees Andrew Vassallo, Joseph Bonnano, Anthony Caggiano, MD and Samuel Martino. Katia Passerini, Dean of the Albert Dorman Honors College, was also present.
The group was also treated to a tour of the state-of-the-art NJIT campus.