Anthony M. Bucco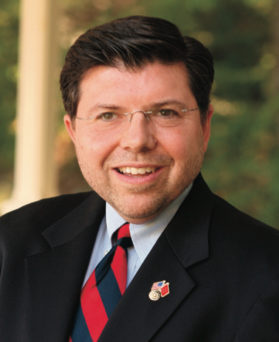 Republican Anthony M. Bucco is serving his third term in the New Jersey General Assembly representing the 25th District part of Morris and Somerset Counties. Anthony was named Deputy Minority Leader by his Assembly Re- publican colleagues for the 215th and 216th Sessions of the New Jersey Legislature. Anthony serves on the Budget Committee, the Commerce and Economic Development Committee and the Legislative Services Commission. An- thony is a lifelong resident of Morris County and currently resides in Boonton Township with his wife, Amy, and their six children. Anthony is a civic leader, a community volunteer, a husband and a father. Anthony is a partner in the law firm of Murphy, McKeon, Wubbenhorst, Bucco and Appelt, P.C. and the son of current State Senator An- thony Bucco and his wife Helen.
Over the last 30 years, Anthony has been heavily involved in many state and local organizations as a dedicated com- munity volunteer, spending tens of thousands of hours volunteering and helping others. This includes nearly three decades as a Boonton volunteer fireman. Anthony is also a Co-Founder of Daytop New Jersey, a drug and alcohol rehabilitation center for adolescents, located in Mendham. He has also served as a Morris County Crime Stoppers Commissioner and was appointed by both Republican and Democrat Governors, to the Governor's Council on Al- coholism and Drug Abuse.
Professionally, Anthony is a successful municipal attorney and local government expert. Anthony has represented local town and borough governments for over 25 years. He is also the attorney for the Morris County Republican Party and a member of the Morris County Republican County Committee.
In his first term, Anthony has had several bills signed into law by Governor Chris Christie, among which includes S-2097/A-3004 which directs the transfer of $22 Million to support the Main Street Business Assistance Program, which encourages New Jersey banks to lend to small and medium-sized businesses by providing credit enhancement and limited subordinate financing. Anthony sponsored legislation that revised and broadened the very successful Business Retention and Relocation Assistance Grant Program (BRRAG), which helps companies preserve and retain jobs here in New Jersey and provides for incentives to expand operations in the state as well. He also sponsored the GROW New Jersey Program that encourages job growth and retention for companies. Also, Anthony sponsored A2920/S2114 which develops a school district dating violence policy and requires school districts to provide dating violence education in the health curriculum to teach our young people about healthy and unhealthy relationships.
New Jersey's new 25th District encompasses the following towns in Morris County: Town of Boonton, Boonton Township, Borough of Chester, Chester Township, Denville Township, Town of Dover, Borough of Mendham, Mendham Township, Mine Hill Township, Morris Township, Town of Morristown, Borough of Mount Arlington, Borough of Mountain Lakes, Borough of Netcong, Randolph Township, Borough of Rockaway, Roxbury Township, Borough of Victory Gardens, Washington Township, and Borough of Wharton and one town in Somerset County: Borough of Bernardsville.