Anthony P. Caggiano, Jr.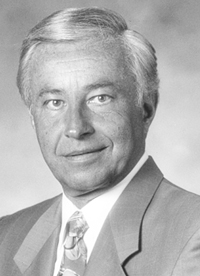 Anthony, Jr., admired and respected his hard-working father, Doctor Anthony Caggiano, Sr. and wanted to follow in his footsteps. He obtained his undergraduate degree at Seton Hall University in South Orange, New Jersey and was accepted at Georgetown University School ofMedicine inWashington, D.C. Four years later, he received hisM.D. degree and did his internship and residency in obstetrics and gynecology at the Martland Hospital Unit-Newark City Hospital (later UMDNJ – NJMS). Following his post graduate studies, Dr. Caggiano, Jr. served two years (during the Vietnam conflict) in the United States Air Force at Altus Air Force Base in Altus, Oklahoma. Captain Caggiano delivered the babies of and cared for the wives and families of the airmen and pilots at the base. After his Air Force tour of duty, he returned to New Jersey where he practiced his specialty in the Montclair, Glen Ridge, Bloomfield and West Essex area. He served as an attending physician at Mountainside, Clara Maas, St. Barnabas and Columbus Hospitals. Over the next thirty years, his practice grew and he delivered many babies and did many gynecological surgeries. The practice enlarged so much that he needed two additional partners.
Dr. Caggiano was very busy with his practice but found time for leadership and administrative roles. He was a clinical assistant professor of obstetrics and gynecology at the New Jersey Medical School in Newark, New Jersey. Mountainside Hospital became his primary hospital and he served as Director of Obstetrics and Gynecology, President of the medical Staff, Member of the board of trustees and Chairman of the Mountainside Physician Hospital Organization. He served as President of the Associated Physicians of Montclair and vicinity.
Dr. Caggiano became active with the Essex County Medical Society and eventually served as their President. From the County Society he was recognized as a leader and the Medical Society of New Jersey elected him to the Board of Trustees. He progressed up the ladder and became President of the Medical Society of New Jersey and Chairman of the Board of Trustees. As President of the Medical Society of New Jersey, he fought for patient and physician rights with the insurance companies (HMOs). He also lobbied for significant tort reform.
After thirty three years of private practice Dr. Caggiano returned to his "first love", teaching medicine and surgery full time. He retired from private practice and became Clinical Associated Professor of Obstetrics and Gynecology at UMDNJ-NJ medical School. His Chairman recognized his experience an expertise and named him Director of two divisions in the department; 1) Generalist, 2) Uro-Gynecology and Pelvic Reconstructive Surgery. He Served for years as a Faculty Council member and on the Board of the University Physicians Associates.
Dr. Caggiano was named as an Examiner for the American Board of Obstetrics and Gynecology and examined candidates for Board Certification for over eight years. At the University, his teaching skills were recognized by receiving many awards. He received the prestigious Golden Apple Award from the medical students. He also received the Council of Resident education in Obstetrics and Gynecology National Faculty Award as well as the Association of Professors in Gynecology and Obstetrics Excellence in teaching Award. the Alumni Association of the New jersey Medical School awarded him their Charles L. Brown Award for his care of the underserved patients of Newark and vicinity. Dr. Caggiano is an avid golfer and won the President's Cup at the Glen Ridge Country Club in 1987. He is proud of his two holes-in-one.
Dr. Caggiano is especially proud of his six children: Anthony III, Tracy Lynn, Dawn Pier, Danielle Maria, Mark Anthony, and Erik Francis, and his nine loving grandchildren. He recently retired so he could spend more time with all of them. He and his companion, Rachel D'Amore, plan to travel and enjoy their life together. Dr. Caggiano loves to say, "No one cares how much you know, until they know how much you care". He also says, that God has blessed him by allowing him to "assist over 7,000 women bring ne life into the world".
God bless!