Anthony R. Bucco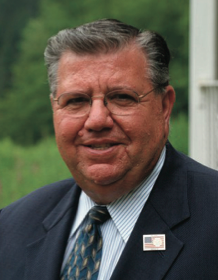 Senator Anthony Bucco was sworn to his first term in the Senate on January 13, 1998 rising from the Assembly where he had served since January 1995. He has since been re-elected to the Senate. In 2002, he was elected Co-Majority Leader and he currently serves as the Senate Budget Officer on the Senate Budget and Appropriations Committee. He also is a member of the Senate Labor Committee and the Joint Budget Oversight Committee.
As a state legislator, Senator Bucco has sponsored a number of bills that were signed into law. Among them is "Terry's Law" strengthening the state's drunk driving laws. He also sponsored the "Safe Haven Infant Protection Act" which allows an individual to bring a baby less than 30 days old to any hospital emergency room or police station safely, legally and anonymously. In 2015, Senator Bucco had legislation signed into law expanding the "Safe Haven Infant Protection Act" to include the premises of fire stations and ambulance, first aid, and rescue squads that are staffed 24 hours a day, seven days a week. He also sponsored legislation to appoint a commission to restore and maintain Lake Hopatcong, the state's largest lake.
Senator Bucco is a lifelong resident of Boonton. He served in the U.S. Army Reserve from 1957-1965.
Senator Bucco has held numerous governmental positions in Boonton and Morris County. He served two years on the Boonton Board of Adjustment and seven years during two tenures on the Boonton Planning Board. He was president of the Boonton Board of Alderman from 1978-1983, and was mayor of Boonton from 1984 to 1989.
The Senator's county service includes five years on the Morris County Board of Social Services, four years on the Municipal Utilities Authority and five years from 1989 to 1992 on the Board of Chosen Freeholders.
Senator Bucco is active in numerous civic organizations and social organizations including the March of Dimes, UNICO, American Cancer Society and American Heart Association. He is a board member of Prevention is Key, a member of the Board of Advisors for Zufall Community Clinic and a member of the Advisory Board of the Roots & Wings Foundation. He is a member of the Pyramid Mountain Committee, the Korean War Veterans Memorial, the State Fire Safety Commission, and serves on the Board of Directors of the Boonton Baroque Orchestra. The Senator sits on the American Legislative Exchange Council. In September 2001, he was appointed to the Council of State Governments and served on its Intergovernmental Affairs Committee. He was vice-chairman of the Lake Restoration and Management Advisory Task Force and has sponsored legislation to dedicate $135 million to repairing dams through the state.
Senator Bucco is President of Baker Titan Adhesives, a manufacturing company in Paterson. He and his wife of over 50 years, Helen, have one son, Anthony M. Bucco, who serves in the General Assembly and is married to his wife Amy with their six children.