Charles Alberto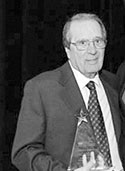 A self-made man, Charles Alberto held several jobs while pursuing his studies at Seton Hall University. After graduating with a business degree, Alberto served as an Army ser-geant before beginning his career at Prudential.
At the age of 28, he started his first business, Form Cut Industries. Through diligence and hard work, with his wife, Joan, by his side, Form Cut grew as they acquired several other companies in the field. Today, the Newark- based company remains an important pro-ducer of precision-formed parts for consumer products, automotive, aerospace and medi-cal supplies. A premier wire lead supplier in the country, Form Cut has received awards of recognition from major companies in the electronics industry.
While Alberto still plays an active role, the companies are now managed by his sons, Charles III and Steve.
Nearly 20 years after building Form Cut, Alberto and Joan purchased Forest Lodge, a 50-acre recreation, picnic and corporate facility in Warren.
A philanthropist, Alberto is the past president of the Orange/West Orange Chapter of UNICO, which also honored him with its National Humanitarian Award in 2004. Addi-tionally, Alberto is an adviser to a number of corporate and charitable boards. With his wife Joan, Alberto established the Alberto Foundation, through which generous contribu-tions have been made to many religious, charitable and educational institutions, includ-ing Seton Hall.
His Italian heritage and his strong ties to Seton Hall led Alberto to establish the Charles and Joan Alberto Italian Studies Institute. The Institute centralizes Seton Hall's Italian-oriented programs and serves as an umbrella for the many activities relating to Italian and Italian-American history and culture. In memory of his father, Charles Sr., who emi-grated from Oporto, Portugal, the Albertos created a fund to purchase library books on Portuguese and Portuguese-American history and culture. They also established the Charles and Joan Alberto Scholarship Fund to assist students with financial need.
In recognition of his dedication and generosity, Seton Hall and the University Libraries presented Alberto with the 2010 Many Are One Alumni Service Award.
The Albertos reside in Livingston.