Elisa Coccia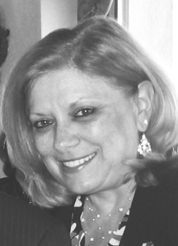 Elisa Coccia is currently the Vice President of Coccia Foundation, founded in 1994 by her parents, Elda and Cavaliere Joseph Coccia Jr. The essential goal of Coccia Foundation is not only to promote awareness of Italian and Italian American culture, history and societal contributions, but to celebrate and preserve these areas for younger generations of Italian Americans in the United States, as well as those of other backgrounds and ethnicities who are interested in discovering all things Italian.
Since 2006, Elisa has been actively working with her family, pursuing the preservation and promotion of Italian culture. In a short period of time, together they have implemented and expanded the Student Award Program recognizing students K-12 who have excelled in studying the Italian language. As an incentive to continue their education in Italian, Certificates of Achievement and monetary awards were given. Elisa was also instrumental in bringing Italian language studies, along with Saddle Brook UNICO, to the Saddle Brook School system 2011-2012. AMICI della Cultura Italiana are student Italian clubs, in over 20 Universities and Colleges under the Coccia Foundation umbrella, who are offered awards and scholarships to pursue Italian studies. Many Study Abroad Scholarships are given out annually to students meeting criteria and recommended by their Faculty Advisors.
Elisa is the appointed and active Family Board member on the Advisory Board for the Joseph and Elda Coccia Institute at Montclair State University, which is the academic arm of Coccia Foundation. Located in the College of Humanities and Social Sciences, the institute has established itself as a leader in Italian and Italian American cultural programming, professional development for current and prospective teachers of Italian, and a breadth of outreach activities with other Italian and Italian American organizations, academic institutions and the Italian diplomatic corps.
Continuing her education through Rutgers University, Elisa became a Certified Municipal Tax Collector in 2002 and has been the Municipal Tax Collector for the City of Hackensack for the past six years. Prior to joining Hackensack, Elisa worked as the Deputy Municipal Tax Collector for the Borough of Franklin Lakes for nine years.
Elisa was raised in Kearny and has lived in Saddle Brook, New Jersey for the past 22 years. Elisa has been teaching Children's Liturgy at her parish, St. Philip the Apostle Church in Saddle Brook, for the past six years and continues to volunteer annually at St. Philip's Summer Festival to help raise funds for her parish.
Elisa's son Jonathan was married to Jamie Rossetti in 2010. Jonathan and Jamie have been blessed with their first child on June 17th, 2012, and are proud parents of a beautiful daughter,Milania, making Elisa a very proud "Nonna." There is no doubt that Elisa will continue in her parents' footsteps, "passing the torch" to future generations.