Joseph Pannullo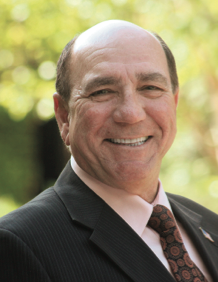 Since January 1, 2008, Joseph Pannullo has been serving as Mayor of the Township of East Hanover.
Born in Newark, son of Joseph and Sarah DeNicola Pannullo, Mayor Joe's family moved to East Hanover in 1971. A graduate of Barringer High School in Newark, he attended New Jersey City University in Jersey City, where he studied business and history. Shortly after, he opened his own small business in the Pest Management Industry, serv- ing as the President of JP Extermination for nearly 40 year.
Joe married his childhood sweetheart, Teresa Verderosa Pannullo, and they have two daughters Roxanne and Sarah, and five grandchildren. They are parishioners of St. Rose of Lima Church in East Hanover and at St. Lucy's Church in Newark.
Mayor Joe has always believed in giving back to his community. His career in public service began long before he ever ran for elected office. In 1980, he served as a volunteer member and Chairman of the East Hanover Recreation Commission. He founded the East Hanover Girls' Softball Association, an organization that is still flourishing today. Joe understands what it takes to build a sustainable future for the East Hanover Community as he served on the local Planning Board, and for nearly the last 30 years, has volunteered, chaired or worked on behalf of dozens of commu- nity athletic and recreation activities, civic organizations, and charitable events. Prior to serving as Mayor, he also served 9 years as a Councilman in East Hanover.
As Mayor Joe, he has dedicated his efforts to improving services for working families, adding social programs for Senior Citizens and expanding recreational activities and facilities for the children of East Hanover. Always an ad- vocate for public safety, Mayor Pannullo upgraded police and fire equipment, expanded OEM and was instrumental in the success of the Community Emergency Response Team (CERT).
In addition to serving as the Mayor of East Hanover, Joe was a member of the United States Army Reserve for 9 years and currently serves or has served on numerous Boards and Community Affiliations including The NJ Con- ference of Mayors, the NJ League of Municipalities, the East Hanover Knights of Columbus 6404 and the East Hanover American Legion Post 421.
Mayor Joe was selected as Chairman of the Board of Mayors representing the Bio Pharmaceutical industry and com- munities that have significant Pharmaceutical operations in their respective town. His role is to advocate on behalf of Mayors throughout the State of New Jersey. Additionally, he serves as the co-chairman of We Work for Health NJ.
Mayor Joe was honored by the Morris County Building Trades Council as their "Mayor of the Year in 2011" as one of their biggest advocates for all trade unions throughout Morris County and the State of New Jersey. He has also been honored and recognized for his leadership by Newark Fire Department, East Hanover Office of Emergency Management, Morris County Prosecutor's Office, FEMA and the City of Pescara, Italy.