Nicola J. Bevacqua, III
Proprietor, Reservoir Tavern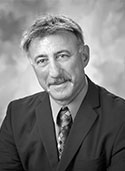 Nicola "Nick" J. Bevacqua, III, was born October 27, 1955 in Boonton, New Jersey, to Nicola J. Bevacqua Jr. and MaryAnne Bevacqua (Zangara). After attending Morris Catholic High School, he went on to earn a Bachelors of Arts Degree ay Lycoming College in Williamsburg, PA. Although he majored in Biology, Nick was drawn to his family's restaurant, the Reservoir Tavern.
In 1936, Nick's grandfather, Nicola J. Bevacqua, Sr., an Italian-American immigrant, bought and named the Reservoir tavern for a small fortune of $1,500. It was an old tavern located on the border of Boonton and Parsippany, NJ. He had only a small kitchen and cold beer for the local men to unwind after a hard day's work. Although Nicola Sr. spoke mostly Italian, he would invite the men into the back and prepare them meals fit for kings. He'd then send them home with a bill as long as they promised to 'come back tomorrow'.
Those meals turned into a family tradition and those men became returning patrons. Nicolas Sr. would have the privilege of passing down his hard work and rising business to his son, Nicola Jr. and later grandson, Nicola, III.
Nick III, is now the Owner of the Reservoir Tavern and proud to share his family's recipes for almost 78 years. Through the "Res", Nick has exercised giving back to the community, just like his family had taught him years ago. As his Grandfather would say in broken english, "It's Nice to Be Nice." To this day, those token words are in a frame and hanging high at the bar.
Nick's philanthropy is focused mostly in local endeavors. He has a sweet spot for children's charities such as St. Jude's Children's Research Hospital and cannot resist supporting the local little leagues, flag football teams and kids who need a helping hand.
Nick's vision of the Italian-American Dream included a strong work ethic and a drive for education. Being the first grandchild of Nicola Sr. to graduate from college, Nick instilled the value of education into his own children. He is the loving father of a daughter and three sons: Melissa, Nicola IV, Joel and James.
In his free time, Nick enjoys hunting, fishing, and golfing around the world.