Stephen Lo Iacono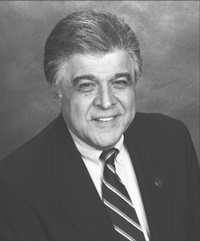 Stephen Lo Iacono was born and raised in the Borough of Lodi. After attending Pope Pius XII High School in Passaic, he went on to earn a Bachelors of Arts Degree at Pace University. Majoring in Business Administration with a Minor in Political Science, Steve became involved in civic affairs at a young age.
His family owned and operated The Bridge Casket Company, also located in Lodi. Following in their parent's footsteps, Steve and his brother Vince continued operating the regional company until merging operations with Batesville Casket Company in 1993. From then until 1999, Steve was responsible for New York area logistical operations for this multi-national casket manufacturer.
Steve has been active with numerous civic, service, religious, and fraternal organizations. As a member of St. Joseph's Church in Lodi, he is the longtime chairman of the annual St. Joseph Italian Street Festival, a member of the parish council, and a trustee of the parish. He is a former president of the Lodi Rotary Club, a member of the Bergen 200 Club; a member for over 20 years of the Felician College Council of Regents, and in 2007 was named a trustee of Felician College. He is a member of the Lodi Moose Lodge, The Coalition for Brain Injury Research, St. Michaels Council, Knights of Columbus, member of the New Jersey Municipal Managers Association, The New Jersey League of Municipalities, a trustee of the Felician School for Exceptional Children, and serves on the Board of Directors of the Bergen County Economic Development Corporation. He currently serves as Vice Chairman of the $30 Million Dollar Capital Campaign for Felician College.
In 2012 Steve was awarded an honorary degree, Doctor of Humane Letters, from Felician College. He is a longtime supporter of The Boys and Girls Club. He is proud to have been an important part of bringing the Boys and Girls Club movement to Hackensack and the subsequent success of the Boys and Girls Club of Lodi and Hackensack.
In 2011 he was honored with the Lifetime Achievement Award by that organization.
Steve has long been active in Italian-American activities. He is a past president of The Italian American Forum of Lodi, being named Man of the Year by that group in 1999. He has served as chairman of that group's scholarship program for over 20 years.
He is currently a trustee of The Columbus Day Parade of North Jersey, Inc., an annual Hackensack event.
He served three terms as a Councilman and Council President in the Borough of Lodi. In 1999, he was appointed the Borough Manager in that community, a position he held until 2005. In September of that year, Steve was appointed City Manager in Hackensack, a position he currently holds.
Steve has always regarded his service with the Lodi Volunteer Ambulance Corps the most significant of all his community activities. He was an active member of that group from 1963 until 1991, serving in virtually all positions including President and Captain. He was honored as a lifetime member of the Corps in 1978. He has always felt that being a volunteer first responder truly had an enormous impact on his life. In 2008, he was named an Honorary Life Member of the Hackensack Volunteer Ambulance Corps.
Steve is married to the former Diane D'Amico, herself a community activist. They are parents of three daughters, Dana Marie Regan, Diane Angela Olear and Stephanie Ann Perrelli, and the proud grandparents of seven grandchildren.